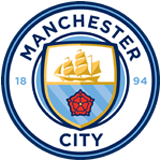 Manchester City home Football tickets
Premier League
Etihad Stadium
Premier League
Etihad Stadium
Champions League
Etihad Stadium
Premier League
Etihad Stadium
Premier League
Etihad Stadium
Premier League
Etihad Stadium
Premier League
Etihad Stadium
Premier League
Etihad Stadium
Premier League
Etihad Stadium
How to buy Manchester City tickets 2022-2023

The 2021-22 Premier League winners are ready to start the 2022-23 campaign, to defend their title. Some major changes are happening in the Citizens squad, after the big signing of Erling Haaland, Pep Guardiola's side is more than ready to conquer their competitor's nets, yet Gabriel Jesus and Rahim Sterling might be leaving the club soon, but Manchester City's fans won't be very upset for their departure, because they are busy preparing to welcome their future star Haaland.

1BoxOffice.com gives customers a reliable website with a real-time ticket inventory of all the best Manchester City tickets on sale for the upcoming Premier League season. Man City tickets are available in a variety of prices and sections of The Etihad football stadium.

To watch the Citizens battle in the beautiful game of professional football, buy your Man City tickets from 1BoxOffice! You can buy cheap, hard to get premium tickets for Manchester City and enjoy the atmosphere, excitement, and energy of live English football. Buy Manchester City football tickets including Man City v Arsenal, Man City v Liverpool Tickets, Man City v Man United Tickets, Man City v Tottenham Hotspur Tickets, Man City v Chelsea Tickets, and Manchester City Champions League tickets to watch top football players in live-action. Watch the club live, and buy Manchester City football tickets right here.


With such active world-class players and arguably the world's best manager to direct the club, there's no reason for Manchester City not to dominate European Football. Other Premier League clubs will find it difficult to overlook them as a fierce rival for the Premier League title.

Loading…